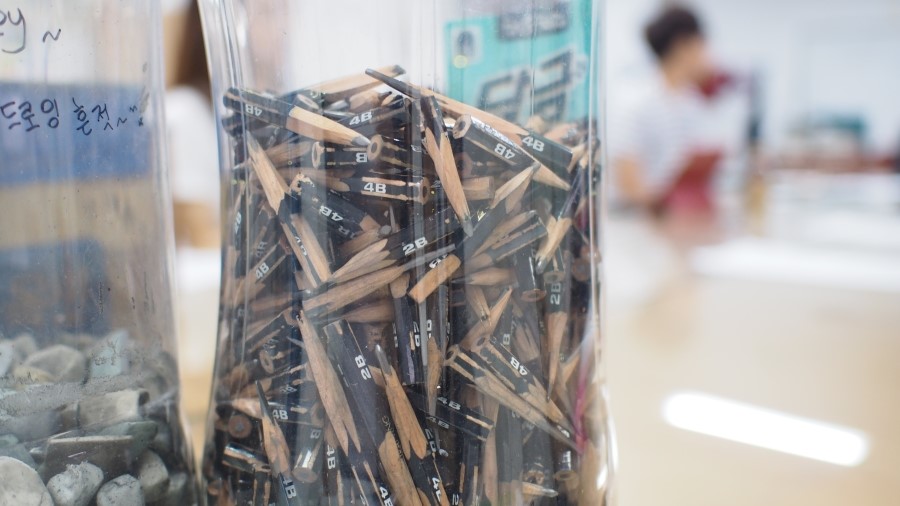 The "Audrey Hepburn project" is donation done by utilizing the skills of artistic talent to help the public or people who are in need. Audrey Hepburn, a celebrity who had fame and glory, spent half of her life helping others. Before she passed away, on Christmas she said, "One hand is for you, and the other hand is for others". Like her, there are some people who use their artistic talent to help others. One small community that is working with this ideal of Audrey Hepburn's is "Dreaming Ally". Dreaming ally was made for students who have a dream to be an artist but can't because of financial limit or their social conditions. This community is run by college students or several artists who desire to protect the dream of youths who want to be artists. Art is one of the majors that carry a huge financial burden, so a lot of students give up their dream and be realistic in their situation. Since being a student is the only time they can be free to dream, though, why shouldn't we help them?
The Inha Times(IT): As you were proceeding in this talent donation work, were there any limits or challenges that you had to bear?
Dreaming Ally: At the point when we first started our Dreaming Ally, we didn't have much support from others. As the work that we do is related to art, it was quite a big burden for us to supply all those art materials students need. However, when our lawyer for Dreaming Ally first got us a spotlight from the media, there was a big support from Wae-Shawn Bank share center, which was like a miracle.
IT: The actions that you take are changing or improving other people's lives. What made you get interested in this kind of project?
Dreaming Ally: When I first started to learn art, I didn't have much difficulty like the students who are studying in Dreaming Ally. It was very lucky for me because it didn't take much money to study art in France. I got support from France's social welfare for 11 years, which made me think I should donate my talent in the same way that I got help from others. Also, my parents were very devoted people who always put emphasis on me sharing the talent that I have, which made me decide to be in Ally.
IT: During this project, were there any memorable episodes that touched your heart?
Dreaming Ally: Surprisingly, not like how other people may think about Ally, there are quite a lot of students' mothers who are really eager to get more advantage from us. However, there was one student's mother who was in a really bad financial condition as she had divorced and was supporting her kids on her own. Even though she was living in harsh conditions, she always wanted to help Ally and gave us a prayer to be well, which was very memorable.
IT: As you put much effort in this donation of talent, how much output did you make? And proceeded? Also, what may be the ultimate goal that you want to achieve? And what may be the prospect of this project?
Dreaming Ally: Even at this moment, there are a lot of students who are improving their artistic skills and talents which is quite amazing. There are some students who enter a good college only by the help that Ally can give. Also, since many college students come to Ally to help us by volunteering, it is a huge output for me as many people are considering our actions. Just a little hope that I desire, I want my students to be the first Korean artists who enter Vitro, an organization that gathers the best artists from all around the world.
IT: Was there any spiritual value or growth of maturity that you earned through this activity?
Dreaming Ally: I could learn how I was lucky about the life that was given to me as I was able to learn art through many years without any difficulty. Also, I feel like I became a true teacher who wants to change the way the education system works. Personally, I feel that there is not much care from the local students about these kids who are in poor conditions. I realized it is very difficult to get financial support from the government as they require too much paper work that people might not know about. Rather than using the budget for checking on the people who are in harsh conditions, I believe they should be helping their citizens first.
IT: If an ordinary college student, such as me, wanted to participate in donation of talent like yours, what can I do? Also, if I don't have an outstanding talent, what should I do?
Dreaming Ally: As there are many college students who apply for Ally to teach art, I believe students that may have talent in art can help our organization by volunteering. Also for others who may not have the talent in art, they can help us with a small amount of financial support or by providing art materials.
IT: Do you think there will be more of donation of talent in the future in a wider spectrum?
Dreaming Ally: I strongly believe there will be more donations of talent in the future as we are becoming a true community that cares about each other. Also, as social media is developing even in this moment, we have more chances to know about others and give attention to their life.
권은경 ek5025@naver.com
<저작권자 © 인하프레스, 무단 전재 및 재배포 금지>